Bostech Mechanical was founded in 1994 near Moorefield, Ontario. The company began with John Bosman, a part time assistant, one van and a shop on John Bosman's farm. From the start, Bostech installed both geothermal and conventional heating and cooling systems. Geothermal has been on the market for over 40 years by this time. Prior to starting the company, John was a licensed refrigeration mechanic and gas fitter. He was selling and installing geothermal systems for another company before he decided to start Bostech Mechanical.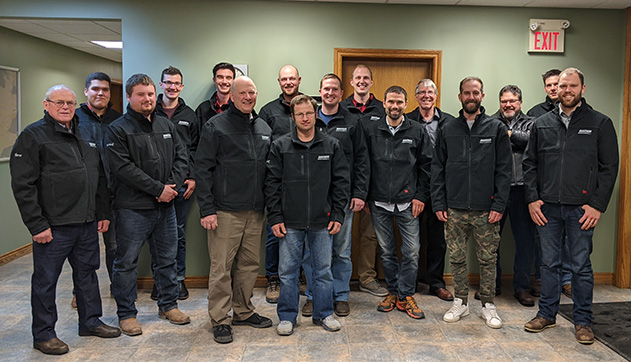 Around 2006 the company outgrew the expanded shop in Moorefield and purchased a property in Listowel to build a new facility which has grown to around 18,000 square feet, space that includes warehouse space, efficient office area and a fully functional showroom. Currently we continue to install residential and commercial geothermal systems as well as boilers, hydronic & conventional heating, and cooling systems. Since 1994 we have done over 2,500 geothermal installations in south-western Ontario.
As a family-based business, we understand the importance of working together as a team. A growing company can't exist without employees that are flexible, have a capacity for lifelong learning and always striving to work better.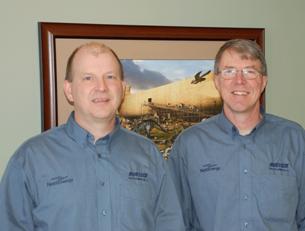 Arnold Bosman, General Manager (left) John Bosman, President & CEO (right).
HOW DO WE WORK?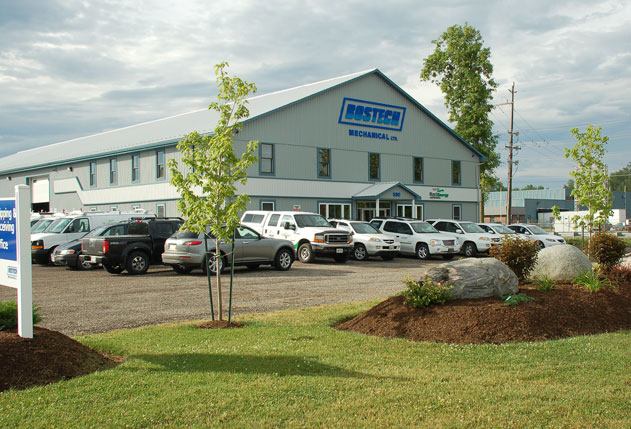 As qualified Geothermal Specialists, we can offer you expert installation and service. Our approach is to listen first to fully understand your current and future needs, making it simple to develop a practical and cost-effective geothermal solution. We collect information from the customer and enter this into our software program to design the right size unit and ground loop. Based on the outcome we can give you free detailed estimate of the costs, so you have a good indication of what you are getting for your money. Our salespeople come and visit you to give you a small presentation of geothermal, go through the design report, estimate, and installation process. Our motto has always been: "Give the customer good information to so that they can make an informed decision".
After the "go ahead" we schedule in the installation and collect information which is relevant for the paperwork. Buying a geothermal system is not something you do every day. Bostech wants you to enjoy purchase of a geothermal system that meets your demands and keeps you comfortable all year round.
OUR MARKETING STRATEGY AND COMMUNITY INVOLVEMENT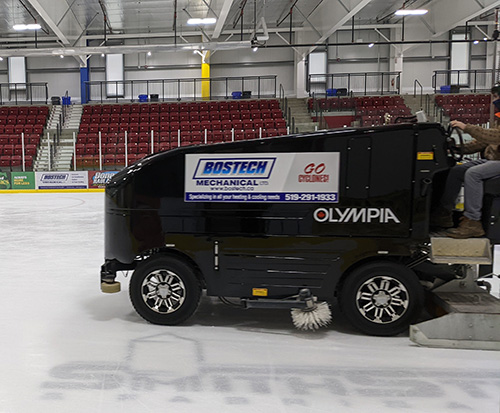 Enjoy the experience of buying and using a Geothermal System through Bostech so you can share your experience with others. We have enjoyed working for customers that go out of their way to promote our company. They are so happy with way we do our business that they just can't stop talking about it. Please visit our Testimonials page to read what our customers are saying.
At Bostech, we also sponsor various community activities and local groups, such as the Olympia ice resurfacer and rink board at the Listowel Arena, the Listowel & District Right to Life, the Listowel Cyclones, Listowel Christian School, LDSS, and North Perth Youth for Christ. You can follow along with our social activities on our Facebook page.
If you have any questions about geothermal in general or want to receive an estimate just contact us or drop by to see our showroom. Come join the many customers who have enjoyed the Bostech experience.