Whether it's controlling the humidity in your residential or commercial indoor pool, or in your home, we have a solution for your application.  Give us a call to discuss your needs.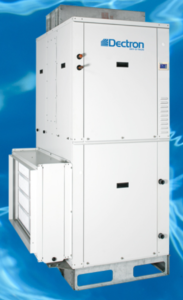 Advanced Dehumidification Technology
Our DRY-O-TRON DS Series line of dehumidification systems provide the very best in classic compressorized humidity control. The combination of exceptional engineering and design, plus premium components make our DRY-O-TRON DS Series both energy efficient and exceptionally reliable. The DRY-O-TRON DS Series provides peak performance in the range of 12 to 120 lbs per hour of moisture removal and 600 to 8,000 CFM of air handling. For larger applications, our LEEDeR® Series is an ideal solution.
Fully Featured in Every Size
We break the line into three size categories, with each category providing design innovations, standard features and unique features that competitors don't provide.
From homes and spas to hotels, schools and YMCAs, our DRY-O-TRON DS Series offers fully featured solutions with plenty of options. Our DRY-O-TRON DS Series is also designed to integrate with and provide maximum performance benefits with the chloramine removal system.
Honeywell Whole Home Dehumidification Systems