Breathe cleaner, fresher air.
iWave-R ionizer is a full-home air purification system that delivers cleaner air for you and your family to enjoy.
---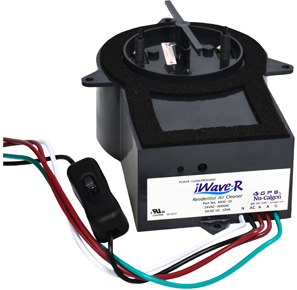 With technology installed in over 200,000 applications, iWave-R is a central duct air purifier.  More specifically, it is a self-cleaning needlepoint bipolar ionization generator designed specifically for treating air in residential duct A/C systems. As the air flows past the iWave-R, positive and negative ions actively clean the supply air, reducing certain bacteria and viruses in the coil and living space. The ionization process also reduces smoke and odors (cooking, pet, VOCs), as well as other particles (no more sunbeams) in the air.
iWave-R is an air purifier that works in any brand of residential duct air conditioning systems up to 6 tons (2400 CFM) in size with no maintenance and no replacement parts for the life of the device. Designed for universal mounting, the iWave-R typically installs inside or outside of duct, or it attaches magnetically near the indoor fan in the air handler. iWave-R always works at peak performance, producing over 160 million ions/cc per polarity (320 million total ions/cc), more than any other ionizer product on the market. Its patented self-cleaning design includes a programmable cleaning cycle that can clean the emitter brushes every 1, 3, 5 or 10 days. The iWave-R is factory set to clean every third day, which is adequate for a typical installation. iWave-R does not create "black walls" as negative-only ionizer products will do.